Vega Trader
If you are selling a H-body send in your info and a picture. We will post within 48 hours at no charge to vegaworld2006@yahoo.com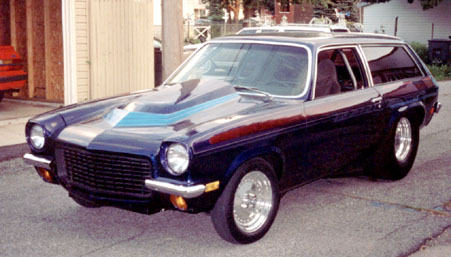 If you have a car forsale we can place it on the trader for free send in your pics and contact info to Vegaworld2006@yahoo.com
1971 chevy vega wagon,green,140 ci. 4 cyl,2bbl/A/C,4-speed.orig.wheels,all stock,nothing hacked-up,runs& drives fine.$1000.00 -firm- cash!....contact-wisnersrestos@windstream.net or (478)-953-0833 Dave
New Post
1975 CHEVY VEGA GT ESTATE WAGON. I WOULD $1295.00 OR O.B.O. ALMOST EVERYTHING IS ORIGINAL INCLUDING THE MOTOR. WE WERE GOING TO TURN IT INTO AN 8 CYL. HOT ROD BUT DO NOT HAVE THE TIME. RUNS AND DRIVES, 140-2 BARREL 4- CYL. 3 SPEED AUTO, AIR, PS, RALLEY WHEELS, TACH N GAUGES, HAS VERY LITTLE RUST. LOCATED IN ROLLA MO. 573-368-4366 OR 573-308-8315 THANKS FOR LOOKING, BILL
---
1974 Chevy Vega GT Drag Car
This 1974 Chevy Vega GT drag car has the best of everything!
Motor has a new 355 cu. in. Chevy small block engine, 475 HP, Steel GM crank, X Beam GM rods, Keith Black pistons, ARP stud kit, GM 2.02/1.94 heads - port/polished, Roller rockers, 2- 510 Holley carbs., and MSD electronics.
Transmission has new 2 speed power glide, Pro Tree trans brake, and 4500 Stall converter.
Dana 60 rear end, 614 gears, Strange axles, Wildwood disc brakes, line lock, 35 Spline spool.
Tires/Rims - Weld Drag Light Rims, Front tires are new Front Runner Tires, Hoosier 23.0 x 5.0 x 15. Back tires are Goodyear 33.0 x 12.5 x 15.0
12 point roll cage.
5 gallon aluminum fuel cell.
Located in New Haven, Indiana.
Aggressive Seller
$11,000
Make an Offer
Call Craig @ (260) 615-7083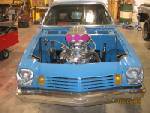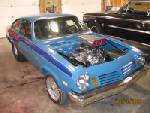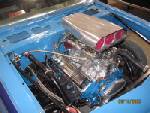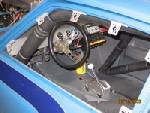 ---
73 Vega GT Wagon, for $1,500
Buyer to handle any shipping.
Eng & 4 speed trans is out of car, still have,
have 4 new tires on it.
Have new Hedman Headers & Engine &
Trans
mounting kit.
Can send pic's on request.
Pamdale, CA
Thank You
---
1976 Vega Nomad Wagon.Original car.52000 miles. Been on blocks in storage many years.Unique factory Nomad option and decal. Auto,Air,PS tilte.Vinyl roof,luggage rack,ralleye wheels.Rust free Texas car. Good green paint and white/black interior. Good title $6500.00 or best offer. Lots of pictures.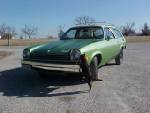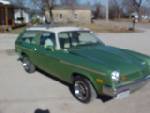 Call: Home: 641-442-3600
Cell: 303-888-9437
Thank you Dan Klever
scsinc@grm.net
Let us help you sell your collector H-Body on the trader
New Listing : Jan 2011-
1975 Chevy Cosworth Vega.
Has original cosworth 2.0
DOHC
Fuel Injection
, 4 spd, 3:73 posi
Excellent running
little car
, mechanically sound. Most of car is in very good shape except for has some rust issues around front of driver rear quarter, and rusted out in spare tire well, into driver's inner wheelhouse. Rust hole in center of dash, behind w/s. Has had hole patched under driver seat, riveted... rest of floors in good shape. Interior in good shape. one tear in seat bun of driver seat @ seam, and needs carpet. rest of interior excellent. Has original paint and stripes still on car. I have new door and hatch seals, and window sweeps that go with car. around 68,000 miles, car number 0135 of 3508. was my daily backup / play car. driving this little car is equivalent to driving a mild V8 early '70s Nova. Lotta pep out of a 4 cylinder, 4 speed.
I will include everything I have for a Vega if you pay what I am asking, however, will consider offers, without extra parts, but no Low Ballers. Do Not insult me. This little car is not eating anything, the only reason it is up for sale is because I recently acquired a 70 Monte that I have a greater interest in, and I hate the thought of this little car wasting away. Would be interested in trades for a good drivable GM A-body parts car, preferably another 70-72 Monte Carlo, or Chevelle. would also consider trade for a fresh built Big Block engine of equivalent value... 396, 402, 427, etc. would prefer no 454's but may consider right one
Call me @
618-974-4496
, or
618-946-4622
, if interested, or if you have any questions. Thanks...... Konrad
NEW Listing : mar 20 09--
FOR SALE: EXTREMELY RARE 1974 VEGA
SPIRIT OF AMERICA 2
DOOR HATCHBACK. THIS CAR HAS ORIGINAL PAINT, ORIGINAL GOODYEAR POLYGLAS WHITE LETTERED TIRES, 32,000 ORIGINAL MILES GOOD INTERIOR,WHITE VINYL TOP GOOD CONDITION , MOTOR WAS STARTED IN 2008. THIS CAR IS VERY SOLID VERY GOOD RESTORIBLE CONDITION. CAR HAD BEEN STORED FOR SEVERIAL YEARS. WILL TAKE SERIOUS INQUIRES ONLY. PRICE IS FIRM $5500. HAVE MORE PICS. PHONE #
814-378-8441